NU-BEE-AN: Free Your Mind...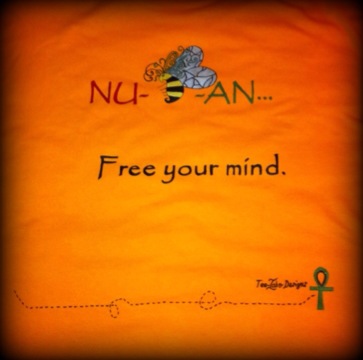 It's not often that I participate in the countless giveaways I see on blogs.
I have entered about five and this will be the second time I won something. I like those odds!
Sonya aka "Lady Tee" is a blogger who I have been following for quite some time. She links up on my Monday Marketing meme to promote her stuff.
Lady Tee is in the process of making t-shirts for Autism Awareness.
Here is the link to the post that discusses how she is raising money with the Autism Awareness t-shirts and how you can help too.
You can also find her on Pinterest where you will see all of her other BEE-utiful designs.
The "bee" is her trademark and is incorporated in all of her designs.
Here I am wearing my new shirt and I LOVE it!
To share this article on Facebook, Twitter, etc. click Share article in the comments section.