Cruisin' Alaska - Part One
Last year, blogger friend Tamara of Tamara (Like) Camera, wrote so poetically and in depth about her flight to land Alaskan vacation, in a 20-part series titled How I Honeymooned Your Father.
Papa Bear and I took the 7-day Princess Emerald cruise to celebrate our upcoming 20th wedding anniversary, along with friends celebrating their 25th anniversary.
I hope to deliver the "Cruisin' Alaska" series in rapid succession; informative and fun while all the details are fresh.
We arrived on the west coast at 10: something a.m. after leaving the east coast at 5: something a.m., I remained confused about the time and zones until... still confused.
Before we left home, I checked the weather one more time. An umbrella and a rain jacket had been added to my suitcase. I was a little down about the pending forecast, not knowing if I'd be able to see the breathtaking views I'd hoped for.
Check in time for our ship was from 1:00 to 3:00. We waited at the airport for our friends to arrive and toyed with the idea of killing time by going to the Space Needle and out to lunch. Without a ride or a plan, we went outside of the airport and found a ride to the ship for all four of us and 8-ish pieces of luggage for a total of $60. Tired, starving and ready to get the party started, we decided to go straight to the pier.
We got to the pier around 11:20 and we were pleasantly surprised to find out that we did not have to wait around. We went through all of the boarding process, turned in our luggage and we were sitting down to eat by 1:00pm.
By that point, tons of people were arriving and we were so glad to be done with it. Our rooms were ready, and our luggage had arrived. Papa Bear took a nap, and I unpacked until we met for our safety briefing followed by the sailaway party.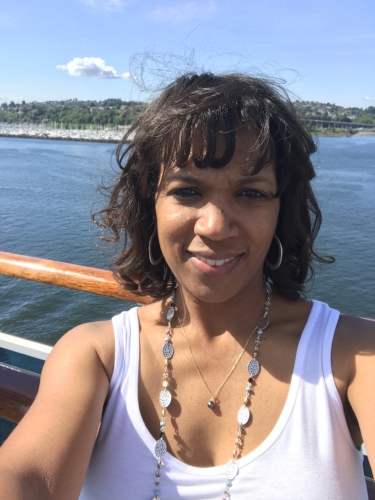 The weather was gorgeous sailing away from Seattle! It was gorgeous for the ENTIRE trip! If and when it rained, we were not affected by it. I never needed my umbrella or rain jacket.
This was the only picture where I looked like I was on a summer vacation.
I'll conclude these posts with tips for those traveling on this cruise or one like it:
I took my bathing suit but didn't use it. The day we left Seattle was the warmest day of the trip at sunny and 64°. Judging from the amount of people who utilized them, the pools must have been heated. The air from the pools and hot tubs to your robe was not. So, no thank you. Papa Bear was just getting over a cold and I was working on not getting it. So getting in the pool would have been like playing with fire for us.
If you're a water drinker, add on the water package. You can only do this from home. Our water arrived to our room within minutes of us unlocking the door. I averaged each of us drinking three bottles a day. We left the ship on the last day with one bottle each.
If you're a coffee drinker, get the coffee package. I did not get the coffee package because I don't drink specialty coffee. However I do like a nice cup of decaf and what was provided at dining and the buffets was downright nasty. I ended up buying a cup of coffee and/or tea each day. The coffee card would have included 15 drinks.
There's a beverage package for sodas, juices, smoothies, milkshakes and non-alcoholic drinks. Keep in mind that the dining breakfast includes orange juice, iced or your choice of hot tea, and nasty coffee. We drank the water and the dining and buffet water was great!
If you drink alcohol at all, you may want the alcohol package. I hadn't really planned to drink. Maybe a wine at dinner or something but when on vacation do as vacationers do. I went all out with a Key Lime Pie Martini almost everyday and sometimes more than once. We did not have the alcohol package.
We did have $300 worth of on board credits which went a long way. Through a vacationstogo.com promo, we received $100 each of onboard credits and then Papa Bear received an additional $100 for his Military Service. This went towards coffee, drinks, an excursion, a seafood night and a steakhouse night.
One thing I wished I'd had from the moment I stepped in the bathroom without my slippers that I'd forgotten to pack was one of those water absorbing bathroom rugs. Pack slippers and/or bring a bath mat.
That's all for now!
Sporadically Yours,